Peace Boat is a Japan-based international NGO which promotes peace, human rights, and sustainability. Established in 1983, it holds Special Consultative Status with the Economic and Social Council (ECOSOC) of the United Nations (UN).
Peace Boat carries out its main activities through a passenger ship that travels the world. Working in partnership with UN SDG Action Campaign, Peace Boat's activities onboard and in port empower participants, strengthen local capacity for sustainability, and build people-to-people cooperation beyond borders. The voyages, run on a social business model, blend sustainable tourism, lifelong learning and friendship activities with educational programmes, cooperative projects, and advocacy.
Peace Boat carries out our activities in partnership and is a member of the following networks, among others (in alphabetical order):
Global Partnership for the Prevention of Armed Conflict (GPPAC),
Northeast Asia Regional Secretariat
International Campaign to Abolish Nuclear Weapons (ICAN),
International Steering Group
International Peace Bureau
Nonviolent Peaceforce
Peace Boat's first voyage was organized in 1983 by a group of Japanese university students as a creative response to government censorship regarding Japan's past military aggression in the Asia-Pacific. They chartered a ship to visit neighboring countries with the aim of learning first-hand about the war from those who experienced it and initiating people-to-people exchange.
Since its first voyage in 1983, Peace Boat has chartered a number of passenger ships to organize our voyages, adapting the onboard spaces to provide a unique and dynamic environment for its participants.
Our global voyages from 2023 will be organised on the Pacific World. For details about our ship, please see our travel agency Japan Grace's homepage here.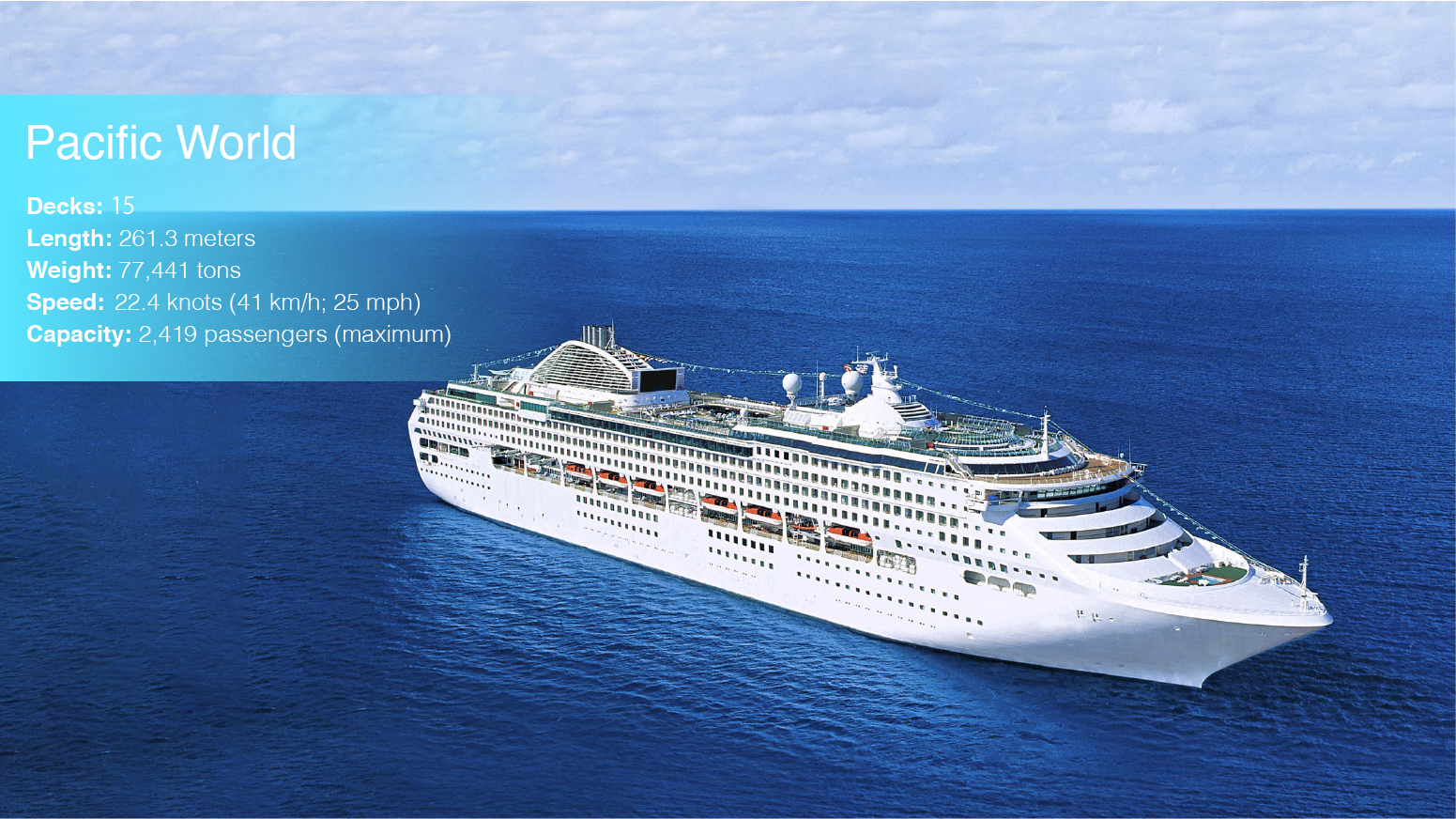 Pacific World
Decks: 15
Length: 261.3 meters
Weight: 77,441 tons
Speed: 22.4 knots ((41.48 km/h; 25.78 mph)
Capacity: 2,419 passengers (maximum)
Peace Boat has around 100 staff members who represent diverse ages, education histories, backgrounds and nationalities. Nearly all staff members joined the Peace Boat team after participating in a voyage as a volunteer, participant or guest educator, and demonstrating a strong commitment and contribution to Peace Boat's activities. Staff involved primarily in international outreach and coordination projects are listed below:
Founder and Director
YOSHIOKA Tatsuya

Yoshioka Tatsuya has been a leading figure in Japanese civil society for the past three decades and has been active internationally in the fields of education, peace and conflict resolution. Whilst a student at Waseda University, Yoshioka founded Peace Boat in 1983 to foster grassroots dialogue and people-to-people reconciliation between Japan and other Asian countries, during a period of tension and hostilities in the region.

Yoshioka has authored books and articles on various peace and conflict-related themes and has been invited to address the United Nations on issues including building a Culture of Peace. He is a founding member of the Global Partnership for the Prevention of Armed Conflict (GPPAC) International Steering Group, head of its Northeast Asia Secretariat, and was nominated for the Nobel Peace Prize in 2008 for leading the Global Article 9 Campaign to Abolish War.

With a strong commitment to environmental sustainability, and a passionate belief in the necessity to develop awareness of the need for non-fossil, non-nuclear energy capacity, Yoshioka is currently spearheading the development of Peace Boat's Ecoship.
International Coordination Team
Rachel ARMSTRONG
Jasna BASTIC
Adrián GODINEZ
Karen HALLOWS
HATAKEYAMA Sumiko
ICHIZUKA Aiko
Rico ISHII ROBERTSON
ISHIMARU Kensaku
Meri JOYCE
KAWASAKI Akira
KIM Bora
KONABE Takumi
MATSUMURA Masumi
Emilie MCGLONE

Rémy MILLOT
MITSUHASHI Yuki
MORITA Sachiko
Céline NAHORY
NOHIRA Shinsaku
Laure NOREST
OCHI Shinichiro
OHATA Soichiro
OKADA Aya
SHIMOJO Asato
Louise SOERENSEN
WATANABE Rika
YAMAMOTO Junior
ZHANG Zixin
GET Global English / Español Training
ISHIDA Keiko
KOIZUMI Noriko
Christopher LINDSTROM
NAKATA Mikako
Tanika POVEA MORA
TAIRA Kazuhiro
Eduardo VILA